If you've been following this blog, you probably know that the past 6 months have been very busy. Now, this year's Imagine Cup is over and it's definitely a success!
This year, we were participating in 2 categories – Software Design and Mashup. Besides the additional difficulty of developing and managing two unrelated projects, we had an additional challenge: distance! Let me explain: while Bruno and I are studying in France, Eduardo is in Brazil. Conclusion: the first time Eduardo met Bruno was in Egypt! (Note how we had to craft our team picture…)
In spite of that, we managed to build two great projects. Let's start by the Software Design project, HealthTag.
HealthTag is a healthcare support system specially tailored for isolated locations. It allows the doctor to access the patient's data from his/her mobile device, being able to analyse and modify the patient's records even without cell phone signal or an internet connection. The data is stored in the cloud (HealthVault and Windows Azure) and can be synchronized when a connection is available. There's also a desktop module for management and registration. The system also provides an analysis module that aggregates all the patient information and allows researchers and decision takers to make conclusions and create strategies for their regions of interest, using a collaborative touchless or multi-touch interface. For a more thorough explanation, check out the video below:
Note: This video is also available in Portuguese at http://www.youtube.com/watch?v=hd3-H_oRMHw
This project was built with constant feedback from NGOs, doctors, healthcare companies and researchers to create a better experience and adapt to their needs. They showed enthusiasm and interest in the project, and we really hope it will become reality soon.
Our Mashup project has been more widely announced in this blog; it's KnoWorld.
KnoWorld is a data analysis platform built using Popfly. It aims to enable everyone to access world indicators and create analysis for curiosity, research and learning. It's tailored for easy consumption and creation of visualizations ("mashups") that use more than 200 indicators from the Gapminder NGO and cross them with other indicators, maps, and events. Besides, thanks to Popfly, users are able to "tweak" visualizations (modify settings and create related conclusions), and "rip" them (discover how they were made and modify the building blocks). This project was the subject of a large series of posts, articles and videos that can be found at the KnoWorld blog.
This project had an overwhelming success. We've seen the community grow in front of our (virtual) eyes, the project was used in an actual classroom, and we've received great feedback from all the users that tried it.
Unfortunately, we've come to know that Popfly is closing in August 24th. That means that (at least for now) KnoWorld is closing. We hope to be able to rebuild it using other platforms, but we know already that a lot will be lost without the Popfly community and its "mashability". Even though, we're happy for being able to create this amazing experience and hope you've enjoyed it while it lasted!
Results
Our projects have been extremely successful in the world finals!
HealthTag was

3rd place in Software Design and
1st place in the Windows Mobile Award

KnoWorld was

 4th in the Mashup competition
Also, the Brazilian delegation has attained the top spot in the Imagine Cup as whole! Special congratulations to all of our teams:
Levv IT – 1st place in Game Development
Willburn – 1st place in Design
ProAtiva – 1st place in the Interoperability Award
IC – UNICAMP – 2nd place in the Tablet Accessibility Award
Thiago Valverde – 4th place in the IT Challenge
A Casa Amarela – 4th place in Short Film
OpenLab – 7th place in Embedded Development
Special thanks
Of course none of this could ever be possible without the help of a lot of people. I'd like to thank the Microsoft (Brazil/LatAm/Corp) teams, the Imagine Cup team, the Bradesco support team, the Brazilian press team (Rede Record) that supported us in the finals. Very special thanks to all the friends and family that supported us, and to the new friends from Brazil and from all over the world. And most of all, thank you team Virtual Dreams – Bruno, Eduardo and Bruno!
I really hope to see you in Warsaw next summer!
Thank you!
Roberto
7 comments
Categories: Imagine Cup, KnoWorld, Novidades
Hey there!
Since we were announced as finalists in the Imagine Cup, many things have changed in KnoWorld. Now the project has a strong and growing community; we were able to impact several people, including schools; and we contacted much more people than we could ever imagine! This post aims to sum up the state of the KnoWorld community and its impacts as of now.
Note: the view counts come from our server stats, FeedBurner stats, Popfly stats and YouTube stats. The full server report is available here.
First, the team initiatives:
Articles: We have written two articles about KnoWorld and how to use it, and we also posted our Round 1 Master Plan PPT. They were read almost 1400 times!
Videos: The team has produced 6 videos about KnoWorld, with more than 800 views:
Mashups: The team has created 11 mashups just to show a small sample of the potential of KnoWorld. They had a total of more than 2350 views combined!
Blog posts: The KnoWorld blog has currently:

10 posts (including this)
A total of more than 900 web views since its launch (excluding the 2 articles above). (See here how we got to this number, and the full server report for the detailed stats.)
And amazingly more than 1000 views via RSS in the last 30 days ! (via Feedburner)

Twitter: We've posted 10 tweets about KnoWorld in Twitter in each of our accounts: @robertos_br and @bfreis. This campaign has largely impacted our viral spread! (Check the next section for more details)
Facebook: We've created a Facebook group with news and links, which has more than 100 members today. A significant part of our views came from Facebook.
ProgrammableWeb: KnoWorld has been posted on ProgrammableWeb, where it was seen 71 times, had a rating of 5.0, was featured as "Popular Mashup" and even posted to Twitter!
And of course, a sample of the community responses:
Mashups: KnoWorld's spread can of course be seen by the growth of its usage. Many users have shared their KnoWorld mashups, some are really insightful! We highlight some of them here:
Articles and blog posts: KnoWorld has been featured in some blogs and even on a Microsoft Education website and newsletter!
Twitter: Twitter has been a great tool for our viral growth. Posts and videos about KnoWorld have been tweeted and retweeted several times, by many people all over the world. Some users who have posted or retweeted about KnoWorld once or more:
So as you can see, KnoWorld is now more than 2 students and 1 mentor, some Popfly blocks and a handful of mashups: we're a community. There are now students studying with KnoWorld, teachers using it, interested people learning from it, ideas being created, and awareness about the 8 MDGs being spread!
Thanks to everyone who's been using KnoWorld and let's keep it up!!!
Team Virtual Dreams
Bruno França dos Reis
Roberto Sonnino
3 comments
Categories: Imagine Cup, KnoWorld
The third video of our "Instant knowledge" series.
For more videos, check our YouTube playlist: http://www.youtube.com/view_play_list?p=61363421F6D9C196
Thanks!
Roberto
1 comment
Categories: Imagine Cup, KnoWorld
Hello there,
We have exciting news: KnoWorld is being used in the classroom!
A high school Geography teacher in Brazil has tried KnoWorld to improve his classes and get his students more interested. It was a great success!
In these videos, you can check out some excerpts from his lesson and testimonials from students and the teacher himself:
Should you need help to use KnoWorld to study or teach, feel free to contact us!
Thanks!
Roberto
5 comments
Categories: Imagine Cup, KnoWorld
Hey there!
Another mashup to our (growing) collection: here we have a simulation of the official UN MDG Monitor for the MDG 4 – child mortality rate, made with KnoWorld.
The advantage here is that with KnoWorld we can use data up until 2008 instead of being limited to the years displayed in the monitor!
So here you have it; in just a few seconds, transforming data in knowledge:
[Mashup removed - Popfly is closing]
If you want, you can see how it was made by ripping it!
More news coming very soon…
Thanks!
Roberto
2 comments
Categories: Imagine Cup, KnoWorld
The second video of our "Instant knowledge" series.
Thanks for watching!
Roberto
1 comment
Categories: Imagine Cup, KnoWorld
First video of the "Instant knowledge" series. More coming soon!
If you tweak a mashup, don't forget to save and post the link!
Thanks!
Roberto
1 comment
Categories: Imagine Cup, KnoWorld
Hi everyone!
Now in the final days in the Imagine Cup Mashup competition, we'd like to invite everyone to know more about our world through KnoWorld! Our idea is to build a library of interesting Mashups and visualizations for everyone to use. With your creativity and data from more than 200 world indicators, you can help us reach the UN MDGs through your mashups!
It's very easy: just go to Popfly.com, create a Mashup using the KnoWorld blocks (just search for "knoworld"), and share the link with us!
If this is your first contact with Popfly and KnoWorld, check out these links to learn more:
You can also follow us through the KnoWorld blog and our Twitter accounts: @robertos_br and @bfreis.
More news coming this weekend… stay tuned!
Thanks and we hope to hear from you soon!
Roberto and Bruno
2 comments
Categories: Imagine Cup, KnoWorld, Mundo
KnoWorld can answer:
[Mashup removed - Popfly is closing]
You can easily create your own mashups and visualizations with KnoWorld too! Check the tutorial and video, and please leave a comment if you have any questions.
See you!
Roberto
2 comments
Categories: Imagine Cup, KnoWorld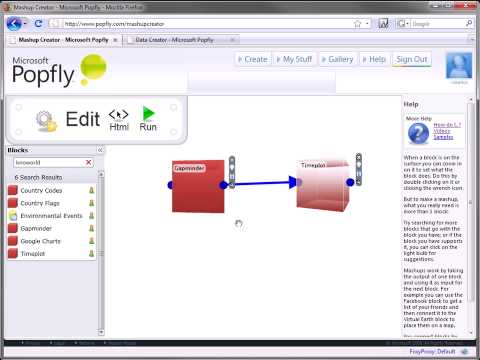 More info: http://virtualdreams.com.br/blog/2009/04/knoworld-know-your-world-to-transform-it/
2 comments
Categories: Imagine Cup, KnoWorld